If a luxury vehicle is expensive, it must cost a lot to insure – right?
Wrong.  Insuring a luxury vehicle doesn't have to be expensive, especially if you follow a few simple rules that help make sure you're both well protected and getting the most value out of your entire insurance portfolio.  Let's take a quick look at what those tips are and how you can get the top notch, affordable coverage that your awesome car or SUV deserves.
Never Get Minimum Limits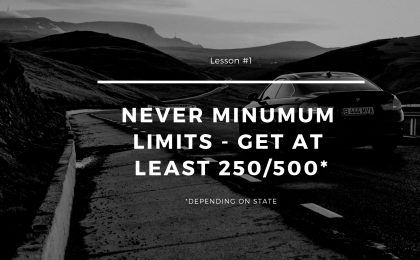 If you have a luxury vehicle of any kind, the simple fact of the matter is that you are MORE likely to use your insurance than other auto owners.  Luxury car and SUV owners are more likely to be in accidents than their less expensive counterparts, with Executive Style noting:
"Figures compiled by NRMA Insurance show luxury sedans had a 29 per cent higher collision frequency during the past 12 months compared to all other vehicle types. Luxury SUVs had a 27 per cent higher collision frequency."
Not only are you more likely to be in an accident, but you are more likely to file a claim after.  Cars.com says, "Luxury cars dominate the list of models with highest total insured collision losses."  Of course this shouldn't be that shocking, as the vehicles themselves cost more – and so do their interior components.  A simple panel can now contain expensive sensors that detect surrounding cars or trucks on the road, which can help greatly to avoid an accident.  But if you don't avoid one, they can cost and arm and a leg to replace.
The lesson here is to never get minimum limits on your vehicle.  You need liability coverage to protect yourself if you get into an at-fault accident, which is more likely considering the above statistics.  You also need full coverage to make sure your valuable car or SUV has the protection it needs when you do have an accident, whether that be a fender-bender with a hidden sensor or a more catastrophic accident that results in a total loss.
Full Coverage is Not Expensive

It really isn't.  I ran a couple of quotes for myself to really get a sense of how much it costs for a solitary driver with a good record to insure the following vehicles: 2019 BMW X5, 2019 Lexus IS 350, 2018 Mercedes-Benz G63, and (my favorite) the 2018 Tesla Model S.  If you want to see how good they really were, I go over each quote in the following video.
Hopefully you saw just how reasonable it is to insure your luxury car.  And not only that, how to insure it WELL.  Which brings me to my last point.
You Can't Afford Not to Have Good Coverage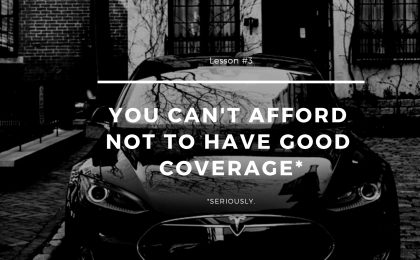 You really just can't.  With the price of a luxury vehicle ranging from $60,000 to $200,000, it would be incredibly irresponsible financial management to not cover an asset like that.  And you probably wouldn't own a lovely machine like this is you weren't financially astute, would you?
The simple truth of the matter is that insuring your car or SUV wisely, with full coverage and high limits, is just the smart, prudent thing to do.  Making sure that you have the right level of protection for a good price is the ideal situation.  With a piece of property like this, value rather than price is the key.  Getting minimum limits and ridiculously high deductibles might seem fine with an online carrier or a company that spends all it's money on advertising.  But to a company like ours, an agency that tries to personally care for each and every customer, no matter how big or how small, we cannot advice in good conscience anything but great coverage.  The great price thing usually comes as a bonus.
One more thing to note is that when people see a luxury car, they assume wealth.  Whether you've got just enough to keep up your lease or you have a swimming pool of gold coins like Scrooge McDuck, the people on the other side of any accident are going to be wondering if they should call their lawyer and sue you.  Make sure you have an Umbrella policy to cover you from additional legal risks that could cost you a fortune – even if you have high limits of liability.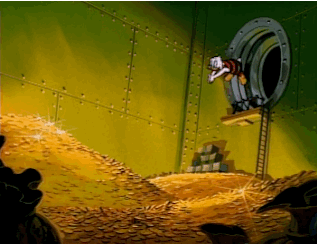 What, me worry?*

So what's the next step?
If it is a new car, send us the information and we can get you a price that will blow your socks off – with coverage that will keep you in the game no matter what happens.  If you already own it, why not compare what you have now with what we can offer, and see if there is something missing.  And if you are already a client, well, maybe it's time to check those coverages at your insurance review.
Want more information?  Of course you do, you savvy so-and-so.  Check out our related articles on:
Umbrella Policies: Protecting you from lawsuits and other liability risks.
Homeowners Insurance: The Ultimate Guide
Life Insurance: A New Parent's Take
Still not sure?  Ask us a question.  Seriously.  Fill out the form below and let's talk.
*Scrooge is obviously a copywrite of Disney.  Obviously.  Please don't sue us.